The Santaluz Club offers a plethora of year-round youth aquatics programming for your children. From private lessons, to pre-swim team, and water polo, we've got the right fit for your kid in the water. The Hacienda Pool is always 82 degrees, year-round.
*Please note: all swim lessons are subject to a 24-hour cancellation policy. If you must cancel within 24-hours of your scheduled lesson, the full lesson fee will be charged to your Member account.
Please call 619-888-7959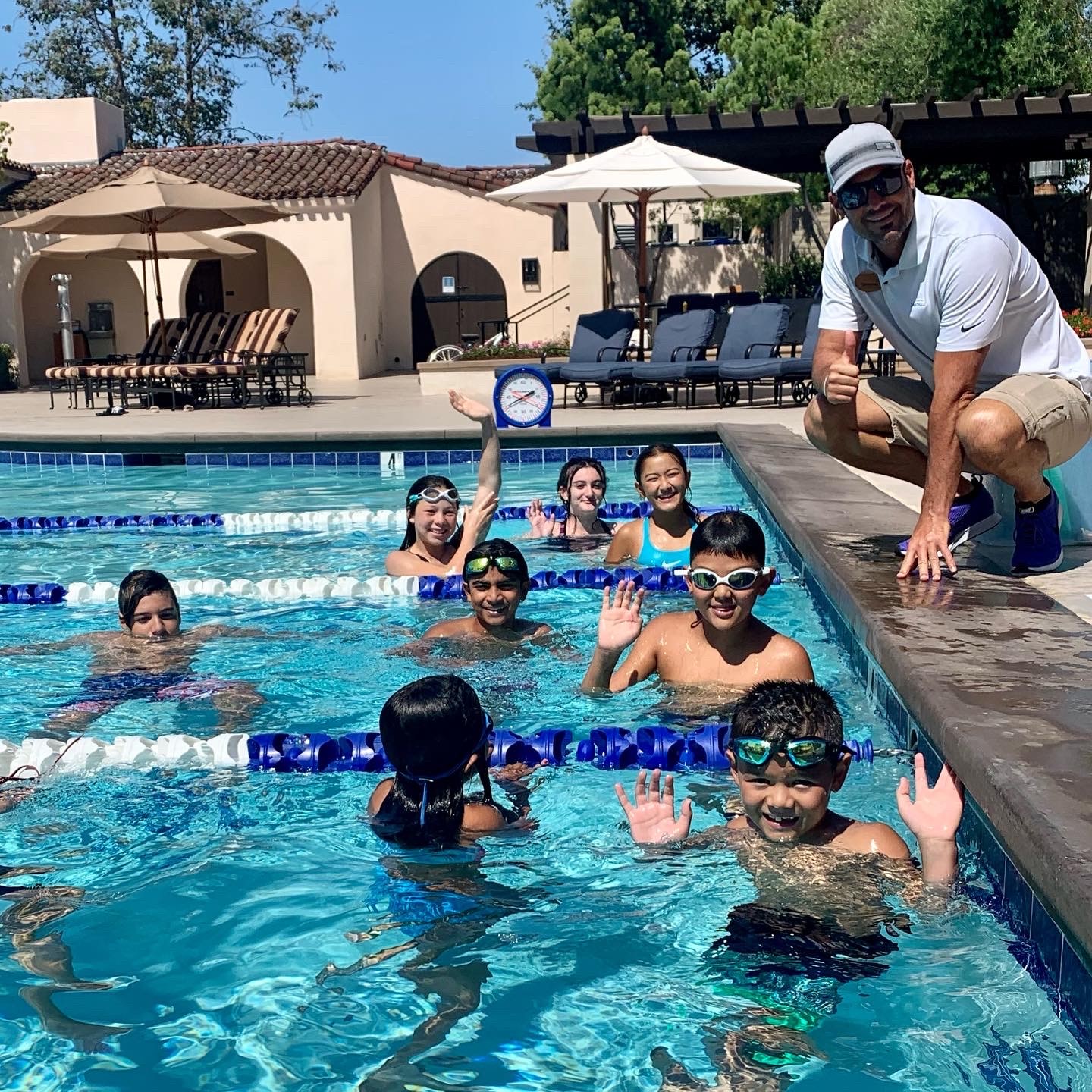 Group Swim Lessons
2021 Santaluz Group swim lessons provide an excellent learning and social environment for children three to ten years old. Our focus is to learn Safety Skills and learn to swim in a fun and encouraging environment. Our classes have three kids per instructor. We create groups by matching abilities. Consistency is very important for the success of your children.
Group lessons are offered on Tuesdays and/or Thursdays, 11am/11:30am;
Class Level Requirements:
BEGINNER 1: Not water safe, introduction to basic water skills
BEGINNER 2: Not yet water safe but very comfortable in the water, able to completely submerge without hesitation, able to swim unassisted to the instructor
INTERMEDIATE: Very comfortable in the water, able to glide in streamline position with kicks, unassisted floats, and freestyle arms
ADVANCED: Able to demonstrate rotary breathing, comfortable in deep water; swim with arm stroke independently for 25 yards
Pre Swim Team
Class description:
Pre-swim team class is a year-round swim program. The class is designed for kids of the age of 10 and younger and it is fully dedicated to the teaching of strokes techniques. Kids will learn the basics of all 4 strokes alongside endurance building. Kids will be USA Swimming registered and will participate in local swim meets.
Swim assessments:
Tryouts are usually held during the class but can also be scheduled separately. Swimmers will be assessed in each of the 4 strokes with a minimum proficiency based upon age as one of the criteria. Speed it's not a measurement to participate in the program. Stamina is a positive point.
Program focus:
Body position and mechanics;

Breathing;

Pace clock and intervals training;

Freestyle;

Backstroke;

Breaststroke;

Butterfly;
Practice days and time:
Wednesdays 5-5:30pm, Fridays 4:30-5pm
Price:
$100 per month; Prorated fee available if previously noted
Water Polo Skills Class
Class description:
Water Polo is a fast-paced aquatic team sport that consist in a various swimming and ball handling skills. The class is designed for kids of all ages and for those of who are interested in learning how to play and to potentially wanting to join a water polo club. Class is fully dedicated to the teaching of all water polo individual skills alongside endurance building. 6 kids max per class;
Swim requirements:
Able to swim 50 yards freestyle. Speed it's not a measurement to participate in the program. Stamina is a positive point.
Program focus:
Swimming without any breaks

Ball control drills

Body positions during offense and defense

Passing/shooting drills and techniques

Treading water techniques (eggbeater)

Hand/eye coordination
Practice days and time:
Tuesdays and Thursdays 5:30-6:30pm
Price:
$160 per month; Prorated fee available if previously noted
Santaluz Swim Instructors: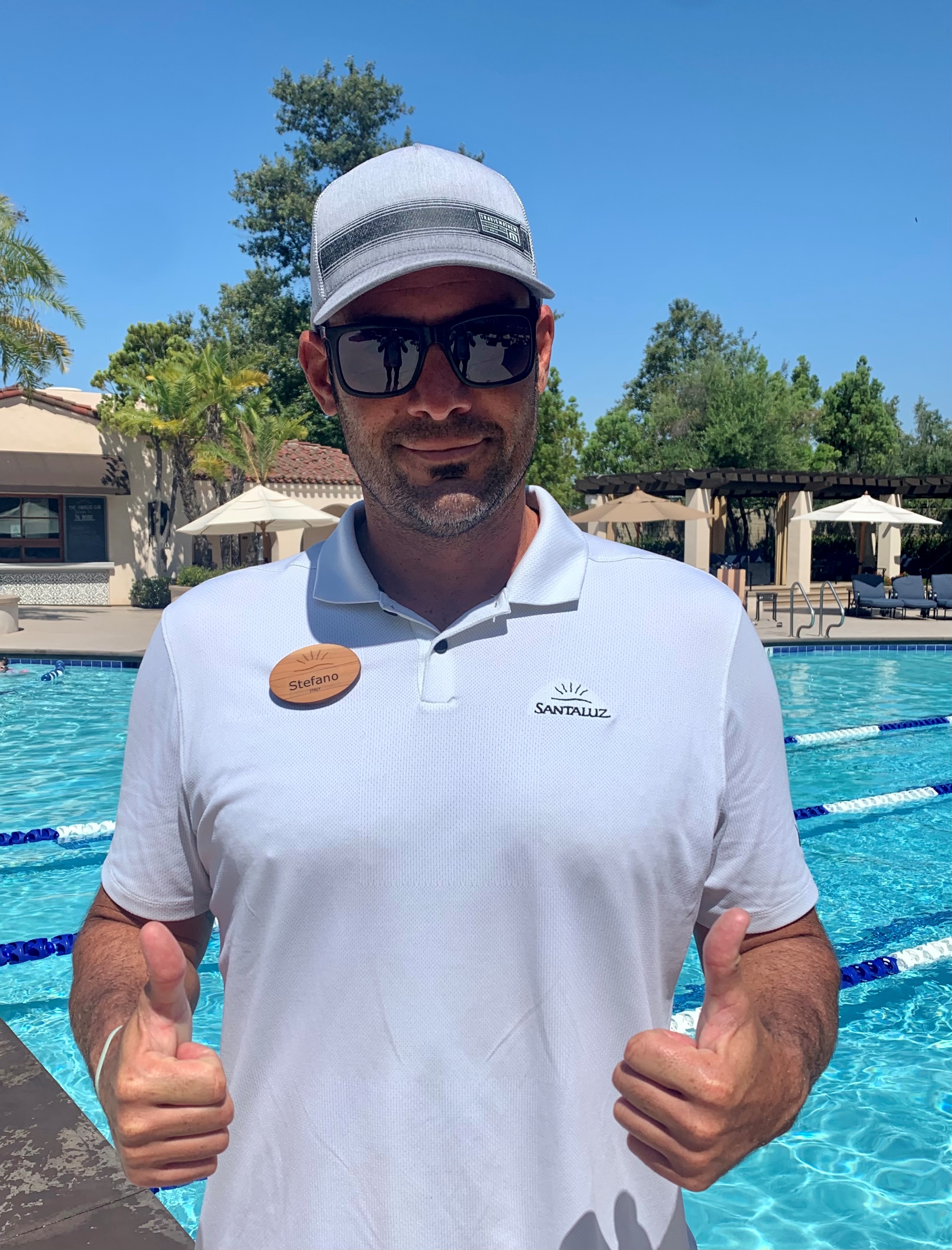 Stefano joins the Santaluz pool team with a long history in the aquatics world. As he would say, "he was born and raised in the water and hasn't gotten out since." Coach Stefano will be leading our Santaluz Swim Team, introducing beginners youth water polo, and revamping our swim lesson offerings. Please welcome Coach Stefano to our Santaluz family and contact him directly if you'd like to get your kiddos in the water for swim team, water polo, or swim lessons. [email protected] or 619-888-7959
Coach Beth Saunders has been teaching swim lessons at The Santaluz Club since 2009. She has competed in multiple triathlons, and was an all state swimmer throughout her career. As a competitive ocean swimmer, Coach Beth has completed the following events for multiple years:
- La Jolla Cove One mile ocean swim
- Del Mar Powerhouse Paddle and One mile ocean swim
- Trans Tahoe 10 mile Swim Across Lake Tahoe 6 person relay
- Swim Around Key West 12 mile, six person relay
- Swim24 (fundraiser - 24 hours of swimming continuously)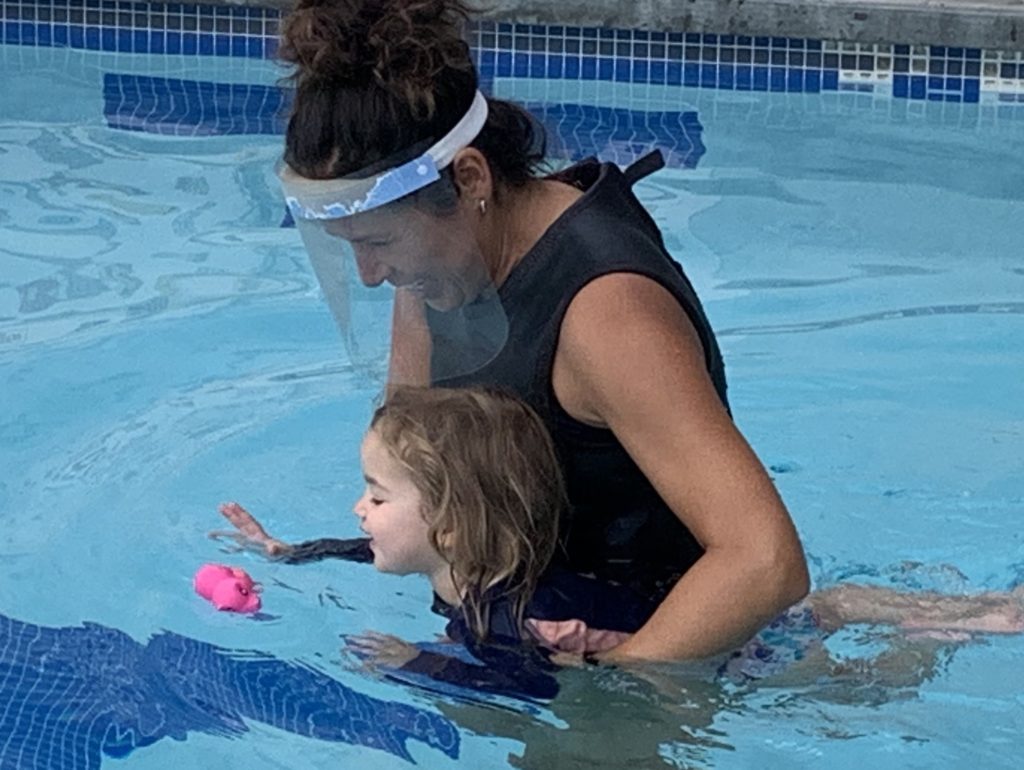 Coach Patty Mariscal has decades of swim instruction experience.
Her fulltime job away from Santaluz is the Aquatics Manager
at the Solana Beach Boys & Girls Clubs.
She is available week day mornings Tuesday - Friday from 8:00a-11:00a
and weekend mornings. Please contact us if you'd like to sign your children up to swim with
Coach Patty at 858-759-3139.